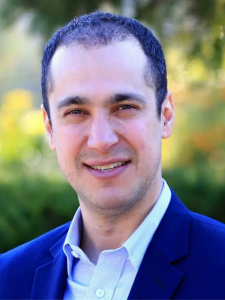 Monday, November 16, 2020
Kaveh Madani, the Henry Hart Rice Senior Fellow at the MacMillan Center, has been awarded the American Geophysical Union's Ambassador Award for 2020. The award is given annually to one to five honorees in recognition of their outstanding contributions to one or more of the following areas: societal impact, service to the Earth and space community, scientific leadership, and promotion of talent/career pool. The Ambassador Award honors individuals whose achievements extend beyond those recognized by traditional scientific discipline awards.
American Geophysical Union's Commendation
"Even though 2020 has been unpredictable and stressful for all of us in our personal and professional lives, now is a moment to recognize those who have pushed the frontiers of our science forward in many different areas. These honorees—scientists, leaders, educators, journalists, and communicators—have made outstanding achievements and contributions to the Earth and space sciences community. These individuals embody our shared vision of a thriving, sustainable, and equitable future for all powered by discovery, innovation, and action. These honorees have built their work with integrity, respect, diversity, and collaboration together with deep engagement in education and outreach."
Kaveh Madani is an environmental scientist, educator, and activist, working at the interface of science, policy, and society. He has previously served as the Deputy Vice President of Iran in his position as the Deputy Head of Iran's Department of Environment, the Vice President of the UN Environment Assembly Bureau, and the Chief of Iran's Department of Environment's International Affairs and Conventions Center. He is known internationally for his work on integrating game theory into water resources management models as well as his role in raising public awareness about water and environmental problems in his home country, Iran.
Please visit the AGU's website for more information and a complete list of award recipients.